4 independent bedrooms | 4 bathrooms | 8 guests
Welcome to the jungle! And to our much-awaited foray into the rich, mighty, and beautifully wild heart of India.
This is the story of a jungle homestay whose breezy verandah and surrounding Sal forests are probably as large as the collective repertoire of the ultra-warm couple that conceptualized, built and now operate it.
Sheema & Aniruddha apart from being life-long travelers, wildlife conservators, researchers, writers, and foodies are also stellar hosts who somehow manage to find the time to be attentive, warm and ever-enthusiastic.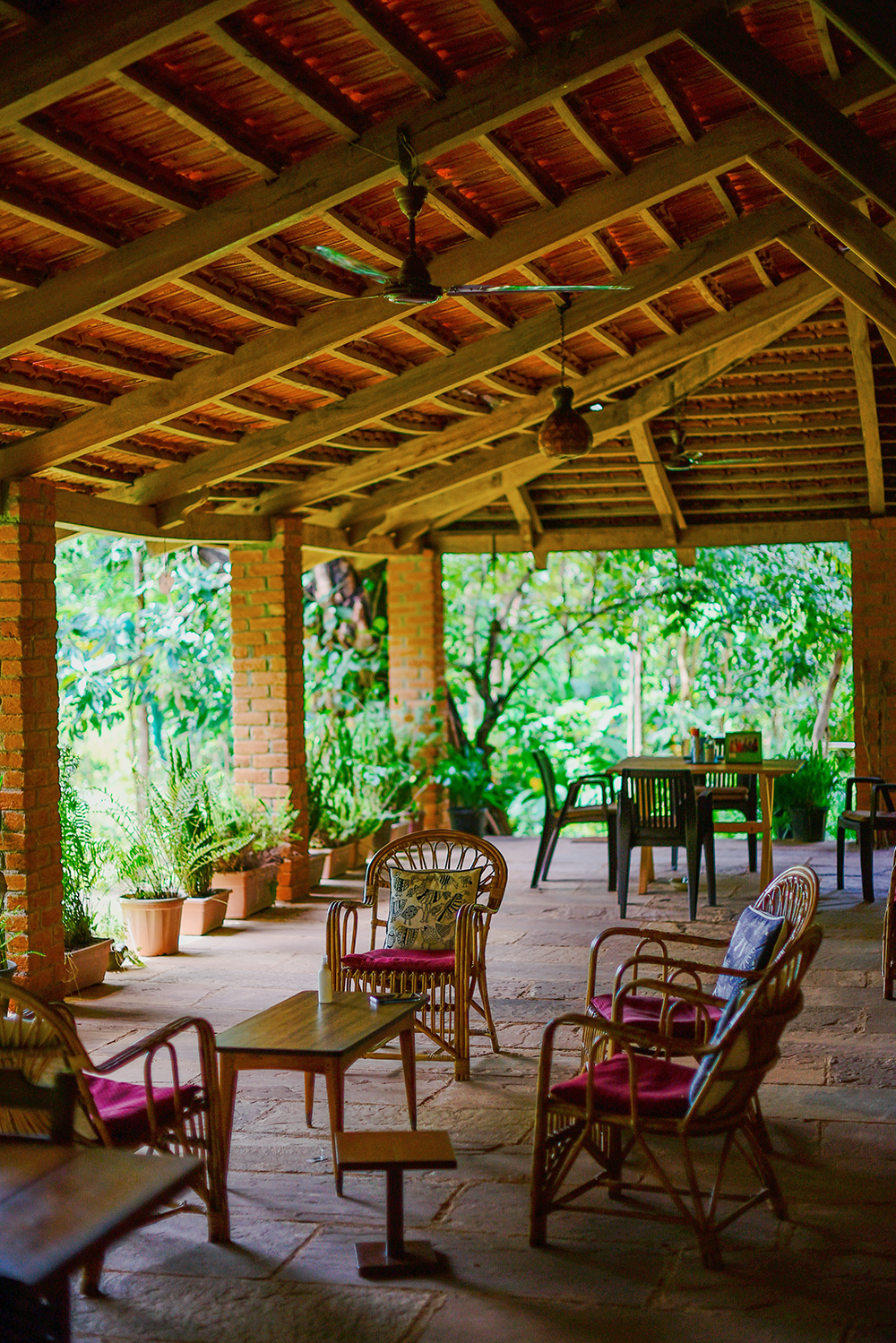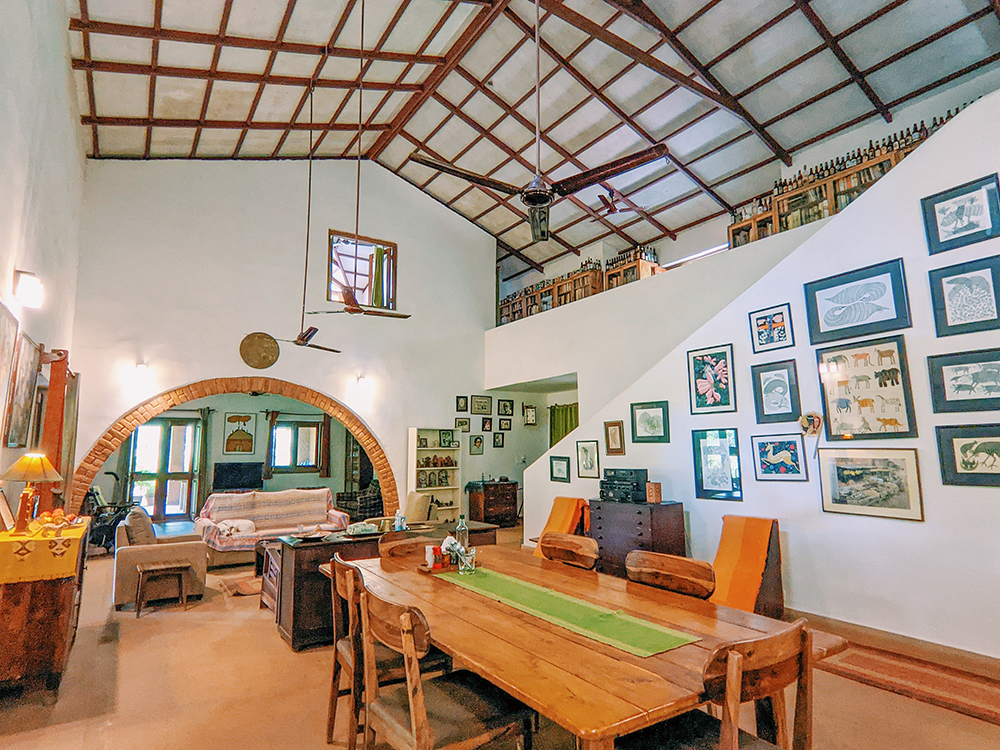 Set along the fringes of the core-zone of Kanha Tiger Reserve and in the midst of 12 acres of forest + farm land, the living spaces are divided into two units. The main house with its super-high ceiling, open plan kitchen and never-ending book shelves has two spacious guest bedrooms.
Separated from the main house by a garden and a large lotus pond, there is also a mud-cottage with adjoining but independent, super airy and skylit guest bedrooms.
Ps- this sustainably run homestay does not have air-conditioning or televisions in the rooms.
Rooms:
This jungle homestay is divided into two sections separated by a man-made pond which is home to a host of lotus, frogs and lilies.
1. The hosts' home with a large verandah, dining room, living area and 2 guest bedrooms on separate levels
2. A set of two mud-cottage rooms.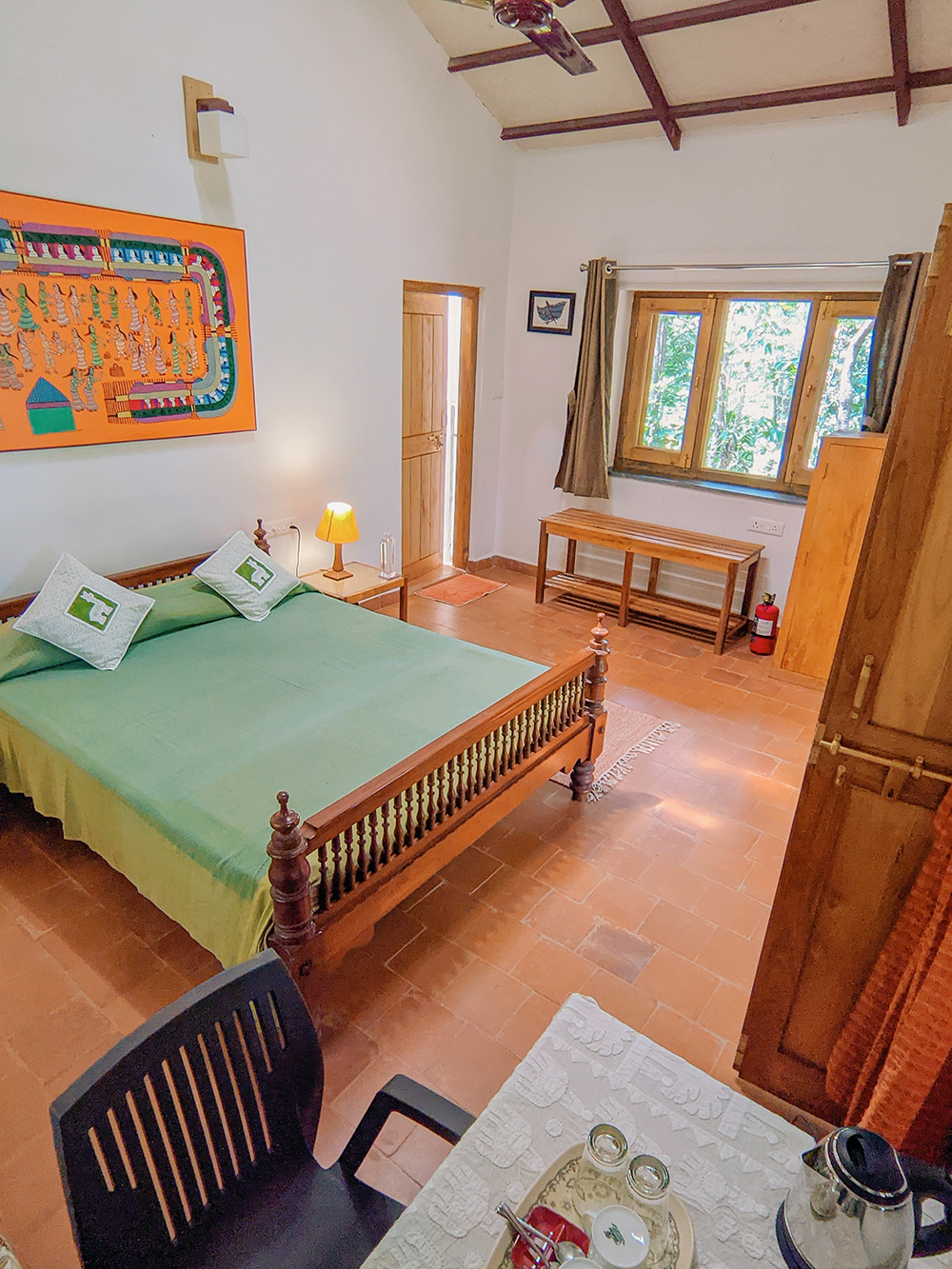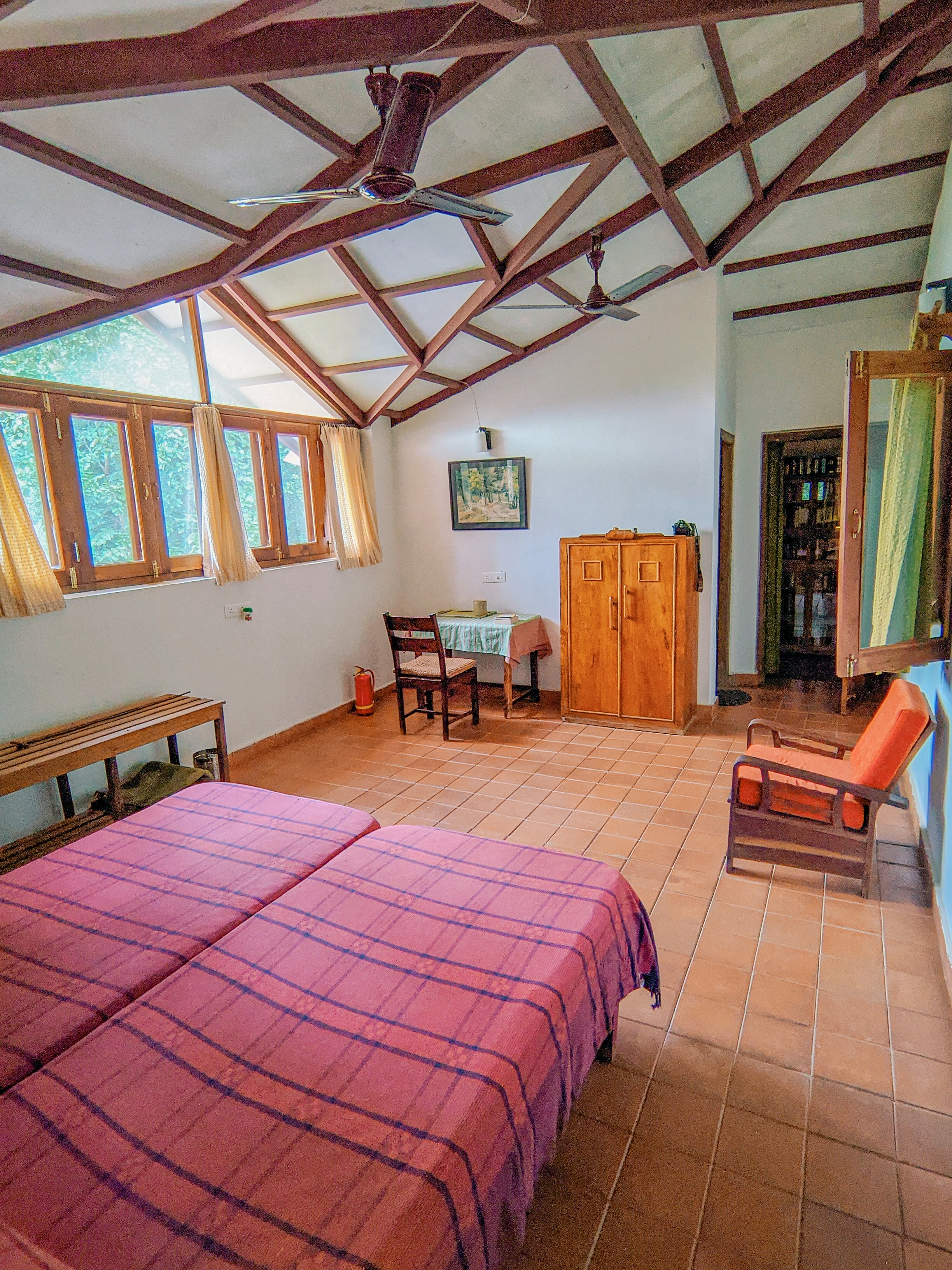 Food:
Aniruddha and Sheema are passionate cooks, and each meal has their personal stamp, and is customized according to the guests' tastes. So, you will get a variety of cuisines, from homely desi to Italian, oriental and continental (their stuffed roast chicken is the star).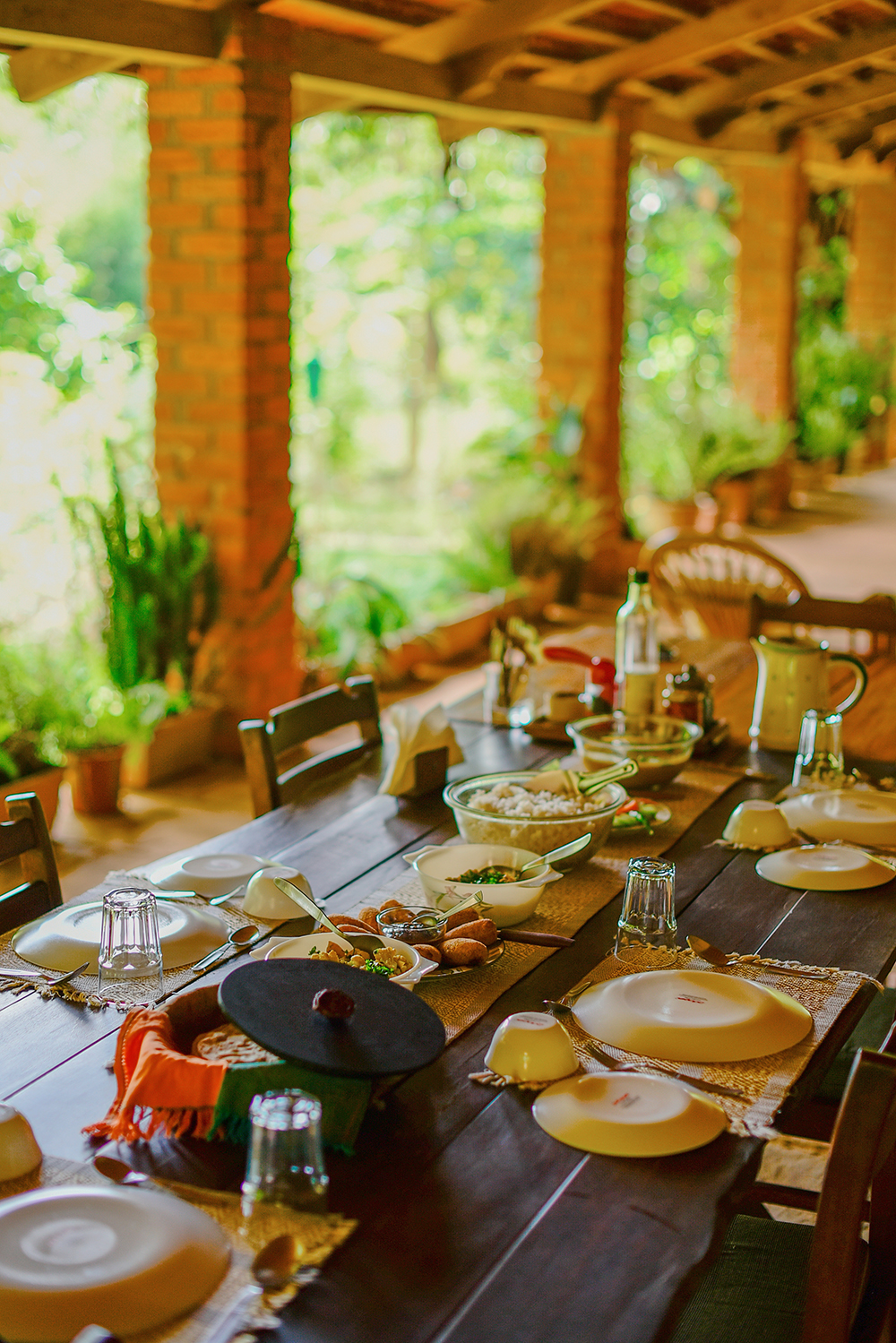 Amenities:
Attached bathrooms with bath linen and toiletries
Optional twin or double bed setup
Tea/coffee station with electric kettles
Hair-dryer
Packages:
Season (1st October -30th June): 9,500/7,500 double/single occupancy
Extra person: 3,000 per night (possible only with the 2 rooms in the main house)
No extra charge for kids under 5 years. Full charge for kids above 6.
Long-stay rates available on request.
These rates include taxes, all meals and snacks.
Add-ons:
Safari: 8,500-9,500 for up to 6 people (non-refundable), this includes permits, jeep and guide.
Full day safari: Rates available on request.
Experiences:
Apart from the finest wildlife safaris that central India has to offer there are countless trails surrounding the property
Bird watching
Village walks to the neighboring Baiga tribes
Seasonal streams and reservoirs that make for the best picnic spots
How to reach:
By Air: Raipur (4½ hrs drive away) or Nagpur (5½ hrs drive away).
By Train: Gondia junction (2½ hrs drive away).
A pick-up can be arranged from the airport/train station through a local cab service.
Booking with us
Booking a holiday with us is super simple. Click on the button below to go to our booking page.